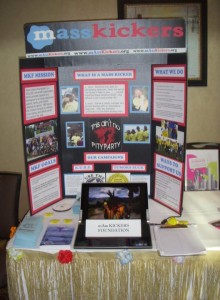 It has been a hectic two weeks! I'm still trying to catch up. Two weeks ago, I had the opportunity to go to Houston, TX to attend the MD Anderson Survivor Conference. The weekend marked many firsts for me. It was the first time speaking at a cancer survivor (not brain tumor conference), first time sleeping in a nice hotel room by myself, and my first time hanging out on my own away from home with my mobility scooter (which I dubbed the "mAss Kicker Mobile".) The first night I met up with some other young adult survivors at the hotel bar! Was great just hanging out in an atmosphere that wasn't sterile like an organized group setting. mAss Kickers Foundation had an information table at the conference which we shared with the
Young Survival Coalition
. It actually affirmed for me how young adult survivors really stick out in the survivor population. There is an immediate bond when you find out a person is also a young adult survivor. There were a few young adult volunteers that created our "science project" display, passed out brochures/Tumors Suck stickers, and spoke with people about what we do. Our booth was constantly surrounded by laughter. We were always cracking up about something... not something you usually see in the survivor world. Anyways, we all stuck out and it was great! I think everyone got to take a spin on the "mAss Kicker Mobile"! Always good for a laugh...The workshop I was involved in went well. Dr. Anna Franklin and Rhonda Armstrong Trevino were on on the panel with me to talk about
Adolescents, Young Adults and Parents: Becoming the Best Health Care Advocate.
It is funny, public speaking is getting easier now that I have something to say. I still don't like being in the spot light. I'm like
Statler and Waldorf.
Anyways, The conference ended with a very cool drumming session... On a side note, I think drumming could be used in my personal OT rehab. After the conference ended, a buddy of mine from college picked me up and we planned to go out to grab a bite to eat and then grab a drink. The mind was willing, but we ended up ordering pizza at his place and watching football while I struggled to keep my eyes open! 10 years ago, we prob would have gone out to eat and then went out... things have really changed... hahaha. I hope to come back to Houston and participate in another MD Anderson event! After Houston, I went back to MI for the wedding of one of my best friends. It was a great time! to be continued...
*originally published on Oct 7, 2010 @ 13:08 www.ericgalvezdpt.com