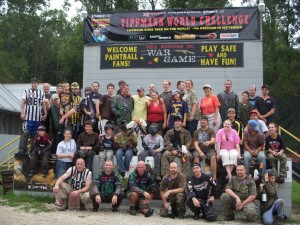 8/14/10 Pinckney, MI - Hell Survivors Paintball Field.
Despite a humid midwestern summer day, >150 people came out to support the 2nd Annual Tumors Suck Paintball Benefit.
The inagural event
, the first of it's kind last year, was cursed by severe thunderstorms but it was energized by the enthusiasm and dedication of
Team FUBAR
. This year there were no thunderstorms, and the expectations were raised with a year of experience in planning the event. The 2010 event was highlighted by a few new wrinkles, a logo was created specifically for the event by
Enuf Marketing and Design
, a bounce house for kids was introduced, and many new faces participated in the event. A lot of newbie paintballers got their first taste of paintball play and Team FUBAR once again put on their "mentoring mask" for all the new players. This year there were more female players, and the enthusiasm for the event increased by at least 10 fold! The event t-shirt featured the slogan "this ain't no pity party" that expressed the sentiment underlying the purpose of playing paintball as a benefit for cancer and brain tumor advocacy. There are many similarities between paintball and a new tumor diagnosis. One needs to be cautious, yet stay on the "offensive". Much like a medical situation, it is also important that all teammates (medical team +family) are working in a coordinated effort towards accomplishing the mission (beating the tumor mass.) In a new intimidating situation, one can choose to:
survive - weather an "attack",
dive - give up hope,
or thrive - continue to do what you need to do and fight back
The paintball benefit is an event where both survivors and non-survivors can
thrive
by uniting to show support combating all tumors.
mAss Kickers Foundation
(MKF) looks to provide support and motivation to all newly-diagnosed patients, family, and friends affected by tumors or cancer. MKF serves this mission through its website, fund-raising, and select events (such as paintball) throughout the year. MKF uses two campaigns in the war on both malignant and nonmalignant tumors.
TUMORS SUCK!
is a public awareness campaign. It is meant to unify all those touched by a tumor or cancer with a pugilistic, rebellious attitude. Basically, people just wear the logo or post the logo somewhere people can see it to show support for someone under going treatment for a tumor mass… malignant or "non-malignant".
USE THE K.U.R.E
. is an action campaign for the newly diagnosed patient and their loved ones to combat any intimidating diagnosis. K.U.R.E. stands for
Use Knowledge, Promote Unity, Support Research, and EMPOWER YOURSELF
. It's an excellent strategy to combat an intimidating tumor mass diagnosis not only on an individual level but also on a larger community level.
Many of the participants this year expressed how much fun they had. They look forward to next year's event. The highlight of the event was
"the gauntlet"
. Members of Team FUBAR again volunteered to be moving targets as a unique way to raise funds for mAss Kickers Foundation and the National Brain Tumor Society. As a "sniper" in the gauntlet, I couldn't help but laugh at the way Team FUBAR
hammed up the gauntlet
.
The 2010 paintball benefit was a huge success and doubled funds raised from last year under the leadership of Angel Bureau and Andrew Wlodyga. With another successful event under our belt, we expect an even bigger event next year. I can't wait to see the new wrinkles in the 2011 paintball benefit.
*originally published on Aug 16, 2010 @ 13:37 www.ericgalvezdpt.com